Art therapy with Sophie, a year 6 primary school pupil
Sophie (pseudonym), a year 6 girl aged 11 years, was presenting with emotional difficulties, low self-esteem and a lack of confidence. She had witnessed domestic violence and her parents had separated before art therapy began…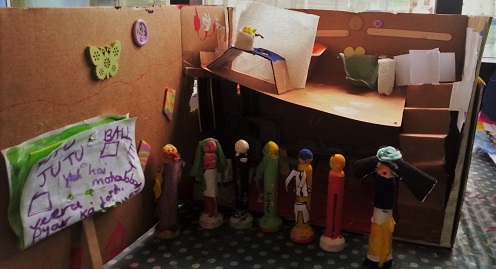 Sophie (pseudonym), a year 6 girl aged 11 years, was presenting with emotional difficulties, low self-esteem and a lack of confidence. She had witnessed domestic violence and her parents had separated before art therapy began. She received 20 sessions and used the time to explore her experiences and sense of self through her artwork.
Sophie worked on one particular piece for the majority of these sessions; a 3D house including characters representing her family. As well as image making she often used role play involving the house image to reframe her experiences and understand family dynamics.
Through the therapeutic setting Sophie was able to safely explore her difficult feelings and experience these being validated. The house image and role play allowed her to create an environment where she was in control and could determine the interactions between characters thus providing a level of empowerment she perhaps couldn't achieve in her actual environment.
Sophie's confidence grew notably throughout the sessions as she trusted the image making process and demonstrated a sense of pride in her work. Towards the end of therapy she was able to identify the positive changes she had made and acknowledged a greater sense of well-being.
Quotes by client from evaluation form:
"Thank you! You have helped me a lot"
"(The art therapist) spoke to me and made me confident"
"Happy!" (in response to question: If at all, how are you any different at home and school since having therapy?)
Ratings by client from evaluation form:
Rating her ability to cope with her feelings since starting therapy she gave 9/10.
Rating thoughts on art therapy helping she gave 10/10.
Rating her family's thoughts on therapy helping her she gave 10/10.
Karen Birch, art therapist