How to get involved with the International Journal of Art Therapy
The International Journal of Art Therapy (IJAT) is a leading publication of international art therapy literature and the official journal of the British Association of Art Therapists.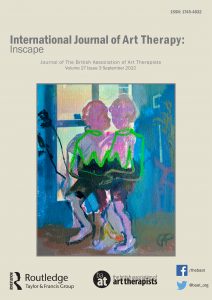 To advance the understanding of how art therapy may contribute to effective interventions for service users through publishing: 
Ethical, high-quality research papers

 

Diverse, innovative practice papers including service user feedback

 

Original, evidence-informed opinion pieces.

 
To further develop knowledge in the fields of art therapy research, practice, theory and pedagogy in a global context for: 
Art therapists

Educators and trainees

 

Service users and members of the public

 

Allied health professionals

 

Mental health practitioners

 

Other professionals.

 
To include service user and lived experience perspectives in all aspects of this work.
How to get involved
Keep up to date with the latest art therapy articles published in IJAT by setting up email alerts here.
Follow IJAT on Twitter @IJATInscape.
Join in with the conversation using the hashtag #IJATInscape. We'd love to hear which IJAT papers have influenced your practice or research.
Become an IJAT Peer Reviewer by booking training here.
See out latest calls for papers, art, and prize submissions at the top of the journal website here.
Submit a paper using the IJAT templates for research and practice papers here.
IJAT is published by BAAT and Taylor & Francis.
To see everyone on the IJAT Board, please click here.