Recollection: Art therapy for individuals living with dementia
A therapeutic community art group offered at The Holburne Museum to individuals with dementia within secondary mental healthcare.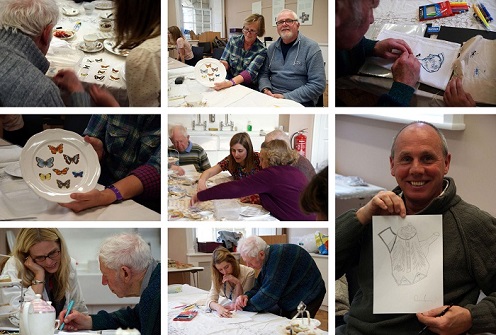 Recollection is a therapeutic community art group running in Bath and North East Somerset (BANES) for individuals living with dementia, this included their family member or carer. Recollection was a collaboration between Rose Pickett, Art Psychotherapist from BANES Older Adults Therapies team in Bath, two artists Gillian Mcfarland (also qualified Art Psychotherapist) and Paula Tew from Bath Artists' Studios and the Holburne Museum.
It was very important for the Recollection group to be held in a community setting. The group was held at the museum and this played an integral part in the success of the project as importantly it enabled participants to access their provision of care in a creative space associated with imagination and wellbeing rather than a clinical space often associated with ill-being. Participants were not labelled as 'patients' in the group but individuals who are experts by experience who had much to bring to the creative space and were united in their creativity and not in their dementia.
The group was a place where the focus was not on things "forgotten". Instead it became a place where participants had access to the museum's collection and exhibitions inspiring them to engage with art making within a stimulating and functioning gallery setting. This provided a bridge for reminiscence, social inclusion, creating and maintaining positive relationships and regaining a sense of control and autonomy through the process of art making.
Due to the success of the group the project secured funding to rotate the Museums in Bath.
#MuseumsAndWellbeing
#DAW2016